Yesterday, met the In-Laws at Kompleks Tabung Haji, Kelana Jaya who departed for pilgrim early this morning, later we went to Midvalley to meet dear laling's sister. We had dinner together, the last time we met was 1 year ago kot! Masing2 dok jauh, and bila balik kg, slalu tak dapat waktu yg sama. So semalam ada kesempatan, we make a point to meet them! We had teppanyaki. Alhamdulillah, thank you De, for the treat! Nanti datang singgah Jelatek ye kalau turun KL lagi,..
On the way back, teringat pula si Emi punya bubble tea from Chatime! So sambil2 jalan kat LG menuju ke parking, mata dok melilau cari Chatime, ade rezki boleh la beli. Alhamdulillah, jumpe pon! Tengok orang beratur nak order pon panjang, yang tunggu pon takde la ramai, so gagah jugak la me pi beratur. Nak suruh dear laling beratur bukan dia! Sebab dia tak minum pon bende alah tu, so orang yang nk minum la kene beratur. I ordered hazelnut choc w/ pearl! Hmmm betul sedap if compare dengan bubble tea from Each A Cup / Bon Bon Cup. Pearl dia kecik and banyak! Tapi ai tak de la sampai addicted or nak minum slalu,.. :P Lain kali datang sini blh beli lg! Heh, datang Midvalley pon blh kire setahun 2 kali kot! At least,.. Hahaha dear laling tak suka nak pi tempat2 macam ni, nak bila ada anak kecik yang dok suka berlari ke sana sini, heh,.. Penat jaga budak, barang tak terbeli, pasni ade 2 hero lagi lah,.. Shopping dekat2 rumah je la kite,.. KLCC la pon paling dekat, hmmm Pavillion pon blh consider lagi,..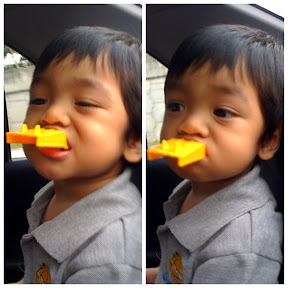 Nah, gambar my Liam semalam,.. Haih, budak ni semakin comot lah,.. Ape yang kite tak kasi buat dia sonok nk buat siap saja show-off kat kite! Malam tadi pulak dia sibuk nak main tak mau tdo,.. Dear laling sampai stress tak leh tidur, sure la dia dok kacau papa kesayangan kan,.. Me dia tak kacau pon,.. Mungkin dia tau malam td me dok melayan false contraction,.. Ai layan je sampai tertido, kalu tertido tuh maksudnya Ok lah,.. Dah nak time dah kot!?!
- Posted using BlogPress from my iPad