I think it's not too late to post a sneak peak of our kitchen. Jom layan,..
The cooking area. Rumah I, kitchen tak besar and sharing with dining area so the space is limited. I have to utilise it with our needed. Oh, and also budget. That's why my oven is beneath the hob. Biasa oven perlu letak at least tinggi 2 kaki dari lantai untuk elak capaian anak kecil ketika sedang digunakan. Tapi dah takde tempat dah yang i boleh letak oven. Oh yang ruang belakang selepas cooking area tu adalah wet kitchen. * yang sememangnya wet/basah sebab memang washing / preparation. Takde tempat masak di situ.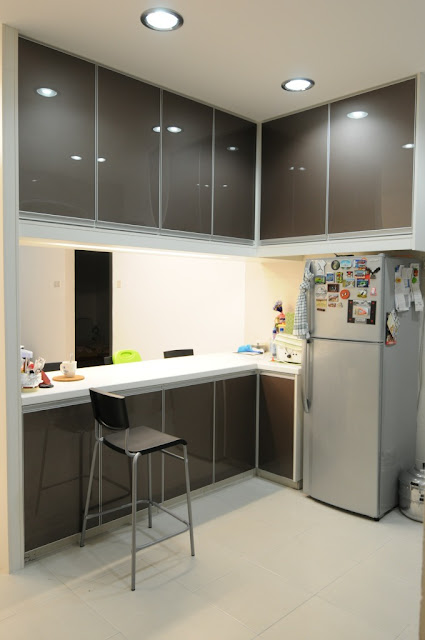 *sila abaikan kehadiran kerusi kat situ* :P All cabinets purposely buat sampai ceiling, supaya tak collect dust. And we have more storage area. :) juga ada kaunter untuk baking, erkss I mean preparation works laaa,.
Yang ni pula pandangan dari dining. We not yet have dining table, so kaunter tuh kami pelbagai gunakan sebagai meja makan juga. Bila dah ade meja makan, meja tersebut Akan detach dengan that counter. Hmmm tak paham? Tak pe, nnt dah ade meja makan I post lagi gambar ye,.. :)) *bila lah agaknya ye? sofa set kat living pon tak pernah ade, dah masuk 3 tahun sejak dok rumah sewa memang gune konsep 'jepun-kononnya'* tak pe perlahan-lahan, utamakan yang perlu dulu,.. Next year kite tengok budget lagi.
For me, the most important thing bila nak masuk rumah, be it rumah baru or rumah sewa, kitchen perlu ada and selesa. Sebab aktiviti keluarga bermula dari dapur. ;))
- Posted using BlogPress from my iPad