Sepatutnya post minggu lepas, but asyik terlupa and tak sempat je nak amik memori card dlm kamera. Kalau dari ipong sure la tak lupe, tp ipong ku dah kaput. Mujur blh selamat kan photo album dlm tuh. Sampai sekarang aku masih bertahan dgn ipong ku itu. Aku hanya boleh terima call saja. SMS or missed call tak dapat dikenal pasti. Nak retrieve contact no. pon tak boleh. Aku klu nak call pon no yang aku ingat je, mujur lepas kawen aku hapal no dear laling 😓. Ipong aku memang aku rase dah tak de orang pakai dah model tu, 1st generation yang sampai mesia. Punya aku bertahan sampai sekarang *orang semua dok gile upgrade ipong masing-masing. Hah, dah 4s dah, aku tetap sama😣* So agak-agak aku bertahan tak sampai tahun depan? Ok lah,.. Tak nak bebel dah pasal ipong. Jom layan gambar activity last week.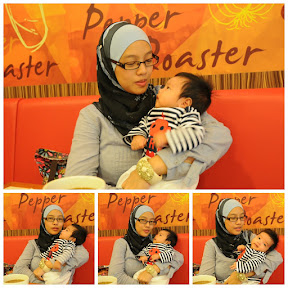 Ziyaad 'Ilmaan 2 months appointment with paed. Dah 5.5 kg 😍
Ni plak Ziyaad Ilhaam menjadi rider dalam rumah. Sapa nak lumba jom!
- Posted using BlogPress from my iPad